Social network marketing has evolved into one of the hottest and profit-making methods of earning money online today. Some folks are earning thousands of dollars in commissions each month by using this technique, while the others are failing totally.
If you're yet to take part the social media marketing frenzy, there are variety of things that you should know before you enter into this competitive market.
You Will Need a Strategy
One of the first things you should do is to look at what the competition is doing on social media sites, call it spying whatever, discover what they're doing. You will find numerous names popping up all of the time, and those are the successful ones who you should be following. Social networking is similar to cultivating friendships off-line, you
stay in contact and you spend interminable hours with these folk and learn about them. Unlike a standalone web site, it is about interaction. The word "social" means exactly that.
Its real people who you're dealing with and others wish to see that you are also a genuine person, you have to build relations and ultimately, just like building off-line friendships, folks will learn to trust you.
You almost certainly currently have a personal Facebook page that you visit all of the time to have interaction with your real friends, you are being sociable with them. If you're interested in building a business on Facebook you really should keep your business life and your social life separate, and that implies building another page for your business.
Nobody is going to take you seriously if your business postings are mixed up with your private life, for instance posting photographs of yourself at the beach in a bikini is fine on a personal page, although not on a business page. If you're doing business people will simply not treat you with respect. Few people will purchase anything from you if
you come across as being a party animal. So it is important to brand yourself separately as a heavy business person, and you will have to keep both your characters separate.
Using Videos to Market Yourself in Social Networking Marketing
There are many billions of hits on videos each day on YouTube, it is one of the hottest social media marketing platforms today, and many folks make enormous incomes from posting videos, so it is critical that you learn how to make good videos that show you in them. I know it's different being in front of the camera.
I started with a video challenge but it does require you to just get in there and start. You will get better. If you dislike being in front of a camera then sadly you are just going to need to get used to it. If you don't know how to make a video then you will have to learn. There are lots of web sites that give instructions – video marketing has gotten so important nowadays both on social media sites, blogs and internet sites.
Video is the Internet's new answer to old-fashioned face to face marketing. Do you remember those people who used to stand in malls and demonstrate products and women with the Tupperware parties at home?
In attracting people; you've got to show your face so you should be smiling. Posting a photograph of something aside from you isn't going to work. People want to connect with you. They want to see a personable side of you
FREE PERISCOPE DEMO & PDF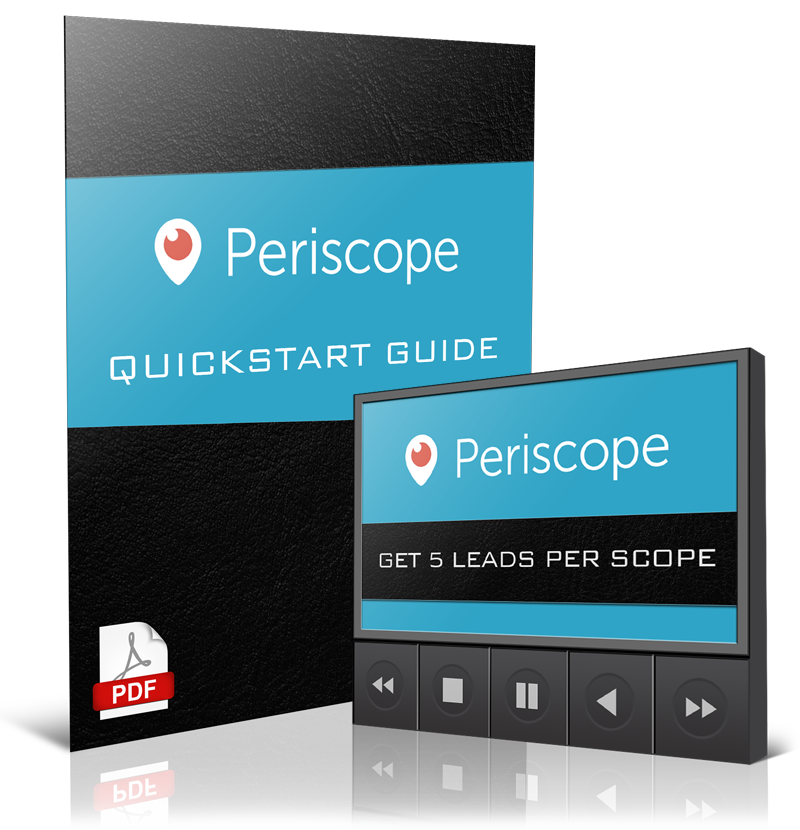 INSTANT ACCESS to a 23-Page PDF & Periscope Training Video to help you Get 5+ Leads Per Scope with Twitter's newest app.
In social media forums, people need to begin to know you and what makes you tick. If you do plug your business via social media sites, you can expect to encounter people who want to socialize too much and you'll have to be taught how to be respectful to keep those diversions as low as possible.
In fact, this is how you hope to earn your revenue so you should keep your real socializing separate. Be approachable but not to social able as it deals with business. Remember to keep your end goal in mind. This is how you hope to earn your earnings, so you must keep a real perspective on the socializing.
Why you are doing this is to create leads, and don't forget that. Think leads all the time. Think personal branding all of the time. Always remember that you are building your business.
When you get to know how to do it properly, you'll be able to create enough leads on demand to have a lucrative company and pocket of money from commissions and you will also be able to sign up lots of people many more than some can sign up in a year by simply having a system which promotes a huge online social network marketing lead generation methodology. You can find out more by following this link.
Sheila W. Mosley
If You Found value with the post, Share & Subscribe for the Upcoming newsletter and eBook.
Please enjoy blog for current Network Marketers Tips, Tools and Strategies.